Treat your Bae, best friend, foodpartner in crime, Mum, Dad, uncle, aunt or other AMAZING person to our Birthday Box with Teds Fave's. For the B'day girl or boy to brunch in the park, on their balcony or on their comfy couch. We promise you: their B'day has never been more festive!
BIRTHDAY BRUNCH BOX
#BIRTHDAYWITHTEDS
DELICIOUS birthday brunch
Five years ago, in 2015, Teds opened its doors officially for the first time in Amsterdam and started the "all day" trend by offering the entire menu, all day and every day. As I'm the kind of person who can really have cravings for fries in the morning with a glass of Champagne or a bowl of Yoghurt and Granola in the afternoon. Luckily there are a lot of people like me which made it possible to open up Teds Utrecht winter 2016, Teds The Hague summer 2018 and Teds Haarlem summer 2019. A place where you can order Waffle Fries in the morning next to your French Toast or Poached Eggs in the afternoon!
As our regulars know we are dedicated to make your TEDS experience tasty and wonderful. In these strange times we are so happy that we are still able to share our love with you, in order to maintain the happy smiles we miss so much at the moment now we are closed. 
We will share (some of) the magic in our DELICIOUS Birthday Box. Pick a sandwich, sweets, fries & drink and get a box to the liking of the B'day Girl or Boy! Let's say a Philly Cheese Steak, Banana Pancakes, waffle fries & champagne for that festive touch. Pick it up at one of our locations and deliver it to their house. Surprise! 🎉
xx
Sanne Huisman
Founder Teds All day Brunch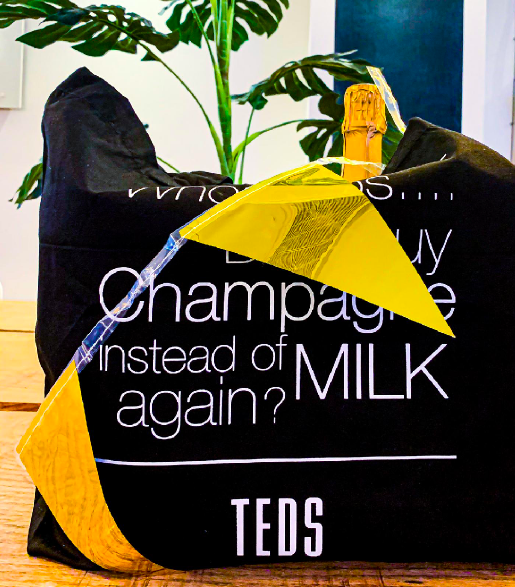 Pick a sandwich, sweets, fries & drink for the B'day Girl or Boy.  For € 40 it's all theirs!
Click on start to pick the contents Birthday Box, € 40!