First of all: HAPPY VALENTINE! Let's make this a day filled with love & undivided attention for BAE sitting on the other side of the table!
Let's get this BRUNCH EXTRAVAGANZA started..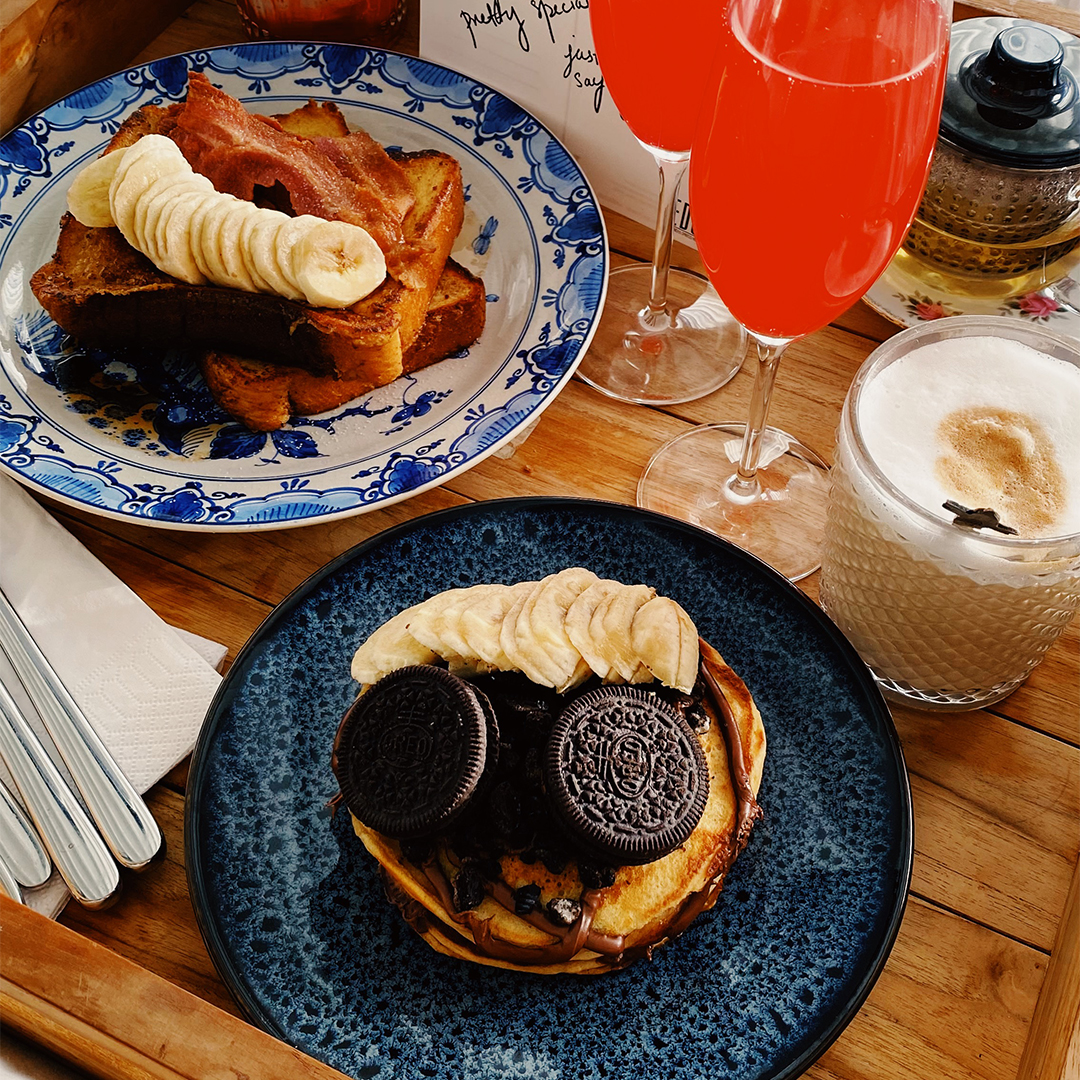 B.Y.O. BRUNCH BOX – Valentine's ed.
#VALENTINESWITHTEDS
This edition serves you everything you need to shoot that love arrow!
We will share (some of) the Teds magic so you can B.Y.O. an awesome but most definitely SWEET-ASS BRUNCH to celebrate Valentine's. Just follow the steps, it's easy, promise!
We would love it when you make a picture and share it on Instagram under #VALENTINESWITHTEDS and tag us @teds_place. We're super curious about your creations and would love to see your happy faces! 
Have fun and remember, eat diamonds for breakfast and shine all day (or even all year)
xx
Teds
Inside your BRUNCH BOX you'll find
Ingredients for Teds Original French Toast
2 slices of Brioche
1 bottle w. French Toast mixture
1 banana
1 cup w. bacon
1 cup w. maple syrup
1 cup w. cinnamon sugar
Ingredients for Banana Pancakes 3.0 Oreeooo
3 Banana Pancakes
1 cute jar of Nutella
Oreo cookies & Oreo cookie crumle  
2 jars of Yoghurt w. forrestfruit coulis 
1 cup w. homemade Granola
Strawberry Bellini's
1 bottle of Cava 375ml
2 cups of Strawberry puree
1 strawberry
Turn on your stove – 1 pitje & Turn up your oven to 180. Fill up a glass with hot water.
You will need:
A Knife
A Spatula
Some oil or butter
Two baking pan's
A Cutting board
A Bowl
Plates for French Toast, Banana Pancakes, 2 nice small bowls for the yoghurt & 2 of your prettiest Champagne glasses.
Some alu foil
and some good lovin'!
BRUNCH BOX – Valentine's ed.
Step by step instructions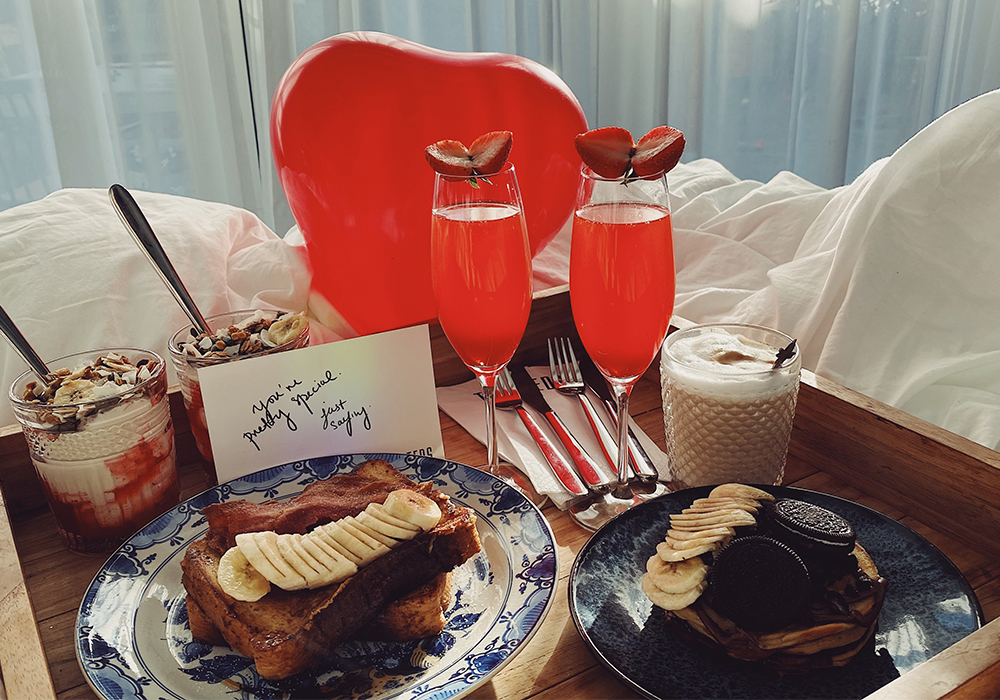 Step 1
Put the banana pancakes in the oven for 3 minutes, leave on the alu foil to keep the moist in & put the cute little jar of Nutella in the glass w. hot water.
Step 2
Open the French Toast Mix and pour it in a bowl.
Step 3
Dip both sides of the Brioche Bread in the bowl (squeeze the bread a little if you overdosed it so the bread won't get too swampy).
Step 4
Put the pan on the stove on a medium fire.
Step 5
Wait until the pan is on a good temperature.
Step 6
Add a bit of oil – if you don't have any oil, butter is fine too.
Step 7
Put the dipped bread in the pan and bake both sides nice golden brown.
Step 8
Get your spatula and put the French Toast on a plate.
Step 9
Put your French Toast to rest….. while you continue w. the yoghurt & bellini's.
Step 10
This is taking some spooning ;)..  Spoon in the yoghurt & fruitcoulis in a nice small bowl and spinkle the Granola on top.
Step 11
Take out the Pancakes and place them in the center of a nice plate. Take out the little jar of Nutella – dry it a bit so it won't drip on your plate or pancakes. Drizzle the Nutella on top of the pancakes.
Step 12
Sprinkle the Oreo Cookies & finish the dish with banana slices & the Oreo cookies as a cherry on top.
Step 13
Bellini's – get your pretty glasses and pour in the Strawberry puree. 1 cup per glass. Pop open the bottle of bubbles and slowly pour this in.
Step 14
Decorate the glass with half a strawberry.
Step 15
Finish up the Teds Original French Toast by heating up the bacon in a pan. Add the bacon to the slices of French Toast and finish off with maple syrup, cinnamon sugar and slices of banana.
Step 16
Your Valentine's brunch. Get a stable tray & surprise your BAE with this amaze Brunch in Bed!
That wasn't so hard, right?! We're sure you shined like a real chef!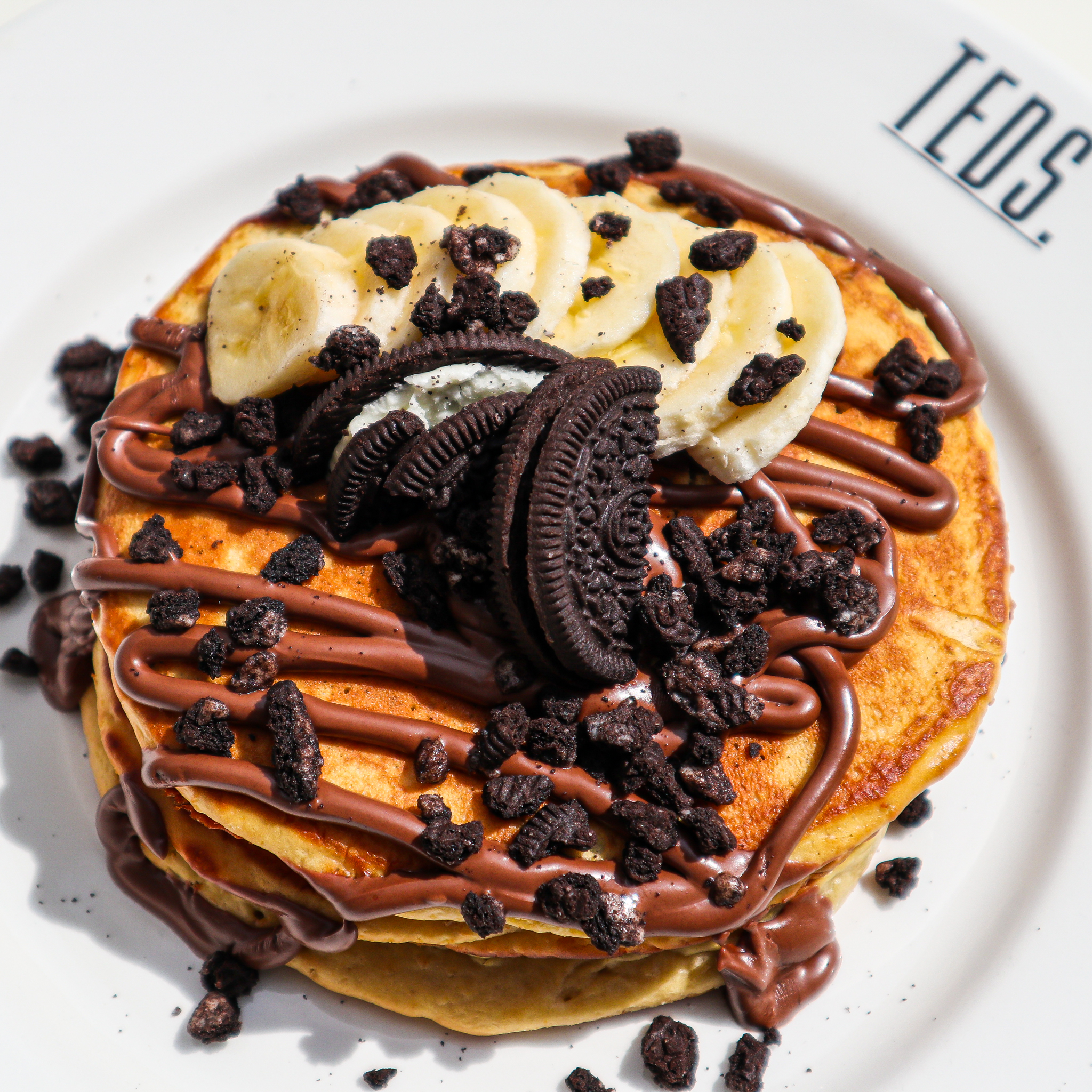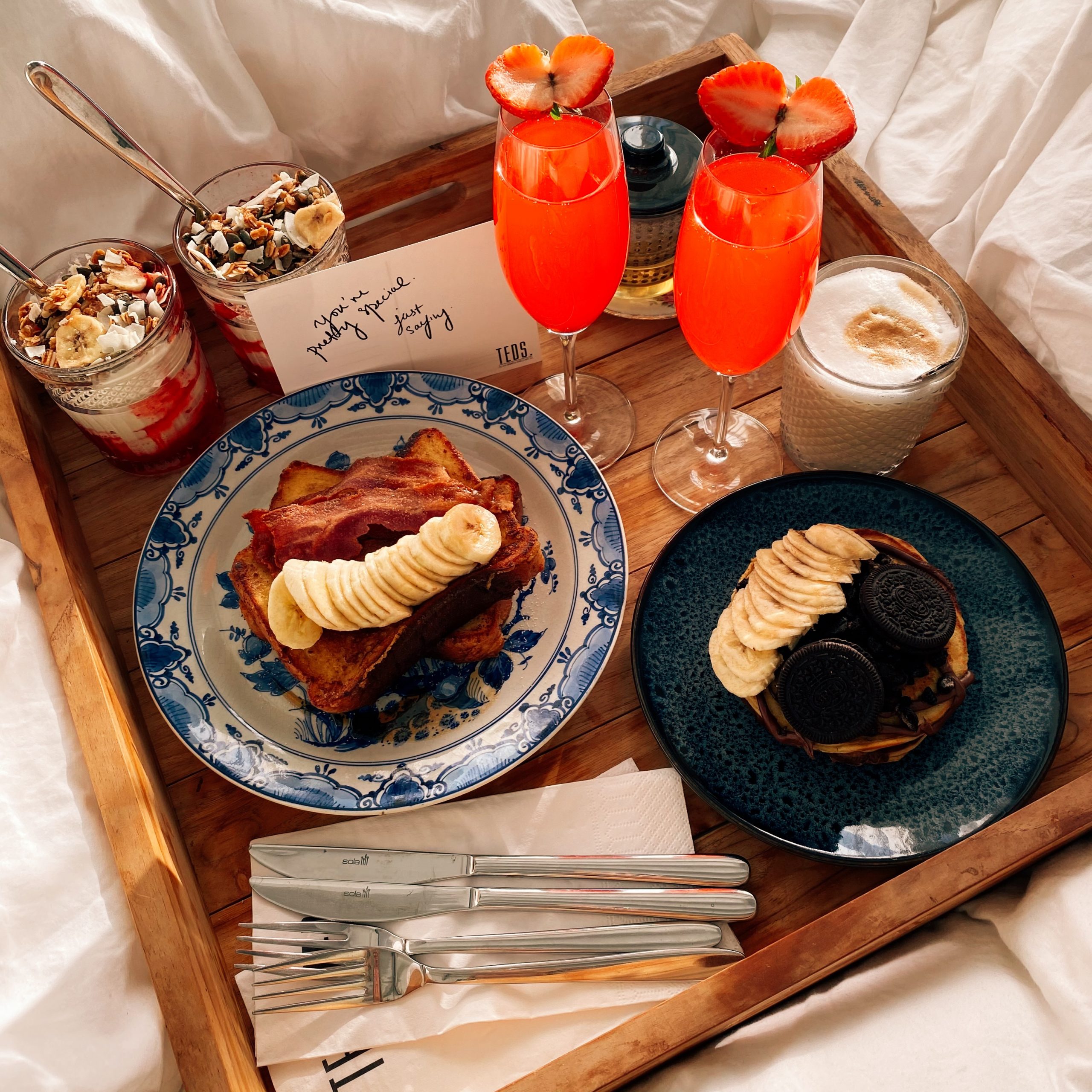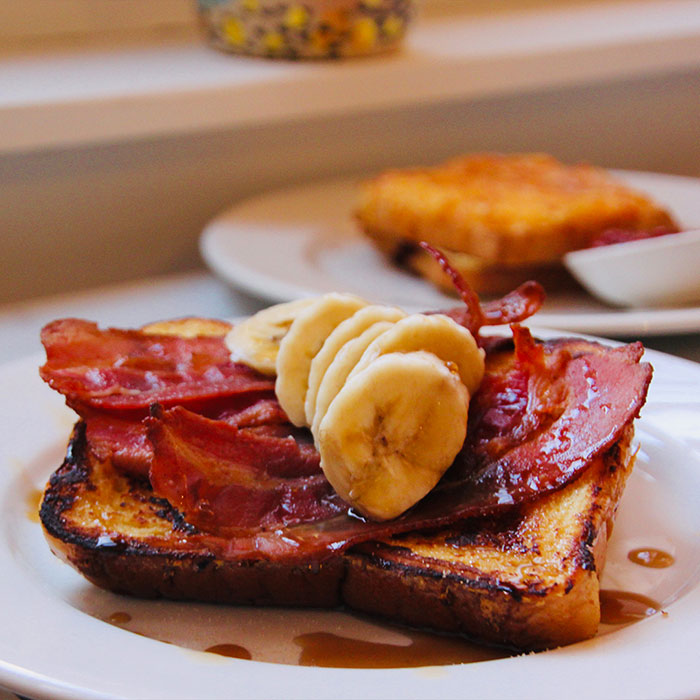 DON'T FORGET
Before you start stuffing your pretty drool-drippin' face with all this deliciousness..
Make sure you take a picture of the end result and post it on Instagram using the hastag #VALENTINESWITHTEDS and tag us @teds-place.
BON APPETIT!