VROLIJK PASEN lieve brunch lovers..
Let's get this BRUNCH EXTRAVAGANZA started..
B.Y.O. BRUNCH BOX – Easter ed.
#EASTERWITHTEDS
This edition serves you everything you need for a hoppy Easter morning! 
We prepared for you the easiest B.Y.O. brunch box this far, the only two skills you need to have are putting a pan on for boiling water and turning on your oven. Oh wait, and setting your timer – so three. Just follow the steps, it's super easy, promise!

We would love it when you make a picture and share it on Instagram under #EASTERWITHTEDS and tag us @teds_place. We're super curious about your creations and would love to see your happy faces! 
Have fun and remember, eat diamonds for breakfast and shine all day (or even all year)
xx
Teds
Inside your BRUNCH BOX you'll find
1 bottle of Bubbles (if you upgraded to the Mimosa box)
1 bag of easter eggs
1 bag with a small tea assortment
1 bottle of freshly squeezed OJ
🔴 Red dot | Oven box :
4 petit croissants (2 minutes in the oven)
4 fresh Brabantse sausage rolls (if you've ordered the vegetarian version your sausage roll is vegan J  ) made bij KEILEKKER.nl (6 minutes in the oven)
2 slices of whole wheat toast (2 minutes in the oven)
4 petit Danish Pastry wrapped in baking paper (12-15 minutes in the oven)
🔵 Blue dot | Boiling water box:
2 fresh Smoked eggs & 2 regular fresh eggs (so you can taste the difference) (6 minutes for soft boiled or 8 for hard boild)
4 green baby asparagus
2 poached eggs by Jordy's kitchen
🍏 Green dot | Finishing up box:
4 Chocolate French Toast Sticks
1 container w. condensed milk
1 container w. cinnamon sugar
1 container w. hollandaise sauce
1 container w. advocaat (14% alc. – do not serve this to your kiddies)
1 container w. homemade Truffle Egg salad
2 homemade Madeleines
1. Turn on your stove – 1 pitje and put a pan with hot water (speeds up the process)
2. Turn up your oven to 180 degrees
3. Get your self a cup of coffee or do what I do – pour yourself a Mimosa!
You will need:
A Bread knife
A Slotted spoon (schuimspaan)
A Gripper
A Cutting board
4 Spoons
6 Nice serving Plates & Eierdopjes
and some good lovin'!
BRUNCH BOX – EASTER ed.
Step by step instructions
Step 1
Put the Danish Pastry in the oven & set your Oven timer on 9 minutes
Step 2
Put the Smoked Eggs & Regular Eggs in to the boiling water (gently with a spoon)
Set the timer for 4 minutes
Step 3
Start setting the table
Step 4
Your Egg timer BEEHEEEPED
Add 2 more minutes when you want your eggs soft or 4 minutes when you want them hard.
Add the poached eggs & asparagus for the last 2 minutes. Turn down the heat so the water is nice and calm and not boiling like crazy.
Step 5
Take out the asparagus & poached eggs, put them a side
Get your slotted spoon & scare the eggs under cold running water
Step 6
Prep the Madeleines by putting an chocolate easter egg on top of them, press a little so the won't roll off
Step 7
Your Danish time BEEHEEEPED
Put the KEILEKKERE sausage rolls in to the oven
Set your oven timer to 4 minutes
Step 8
Continue setting the table
Step 9
BEEHEEP – your oven timer
Put in the whole wheat bread slices for some light toasting for 2 minutes.
If your oven is big enough, you can also put in the Madeleines, petit croissants & French Toast sticks (remove the plastic seal)
Step 10
Plating!!
Empty the container w. Truffle Egg salad on one slice of the whole wheat bread and spread it, top with the other slice and cut it diagonal in to 4 pieces, put them right up their long sides or any other way you like
Step 11
This one is easy – put the Danish & two petit croissants on a plate
Step 12
Cut the other two croissants in half, lay the bottoms on a plate and load the poached egg on top. Get a spoon and cover the eggs with 1 scoop each of our homemade Hollandaise sauce. PLEASE SNIFF BOTH YELLOW SAUCE CONTAINERS SO YOU KNOW FOR SURE THAT YOU HAVE THE HOLLANDAISE SAUCE ON YOUR EGGS! Put up the baby asparagus and cover it all with the top of the croissants. Carefull – the sauce makes it slippery.
Step 13
Put the Madeleines with melted chocolate egg on a plate and cover them with Advocaat. This contains 14% alcohol so please do not serve this to your Kiddo's or your Pregger BAE!
Step 14
Make a nice stack of the Chocolate French Toast sticks and sprinkle the cinnamon sugar on top finish up by drizzeling the condensed milk.
Step 15
Make a nice stack of the Chocolate French Toast sticks and sprinkle the cinnamon sugar on top finish up by drizzeling the condensed milk.
Step 16
Build the mimosa's – 1/3 OJ in a champagne glass topped up with Bubbles.
Step 17
READY – Put everything on the table and hopperdyhoppy get your easter bunny's to dive in with you!
That wasn't so hard, right?! We're sure you shined like a real chef!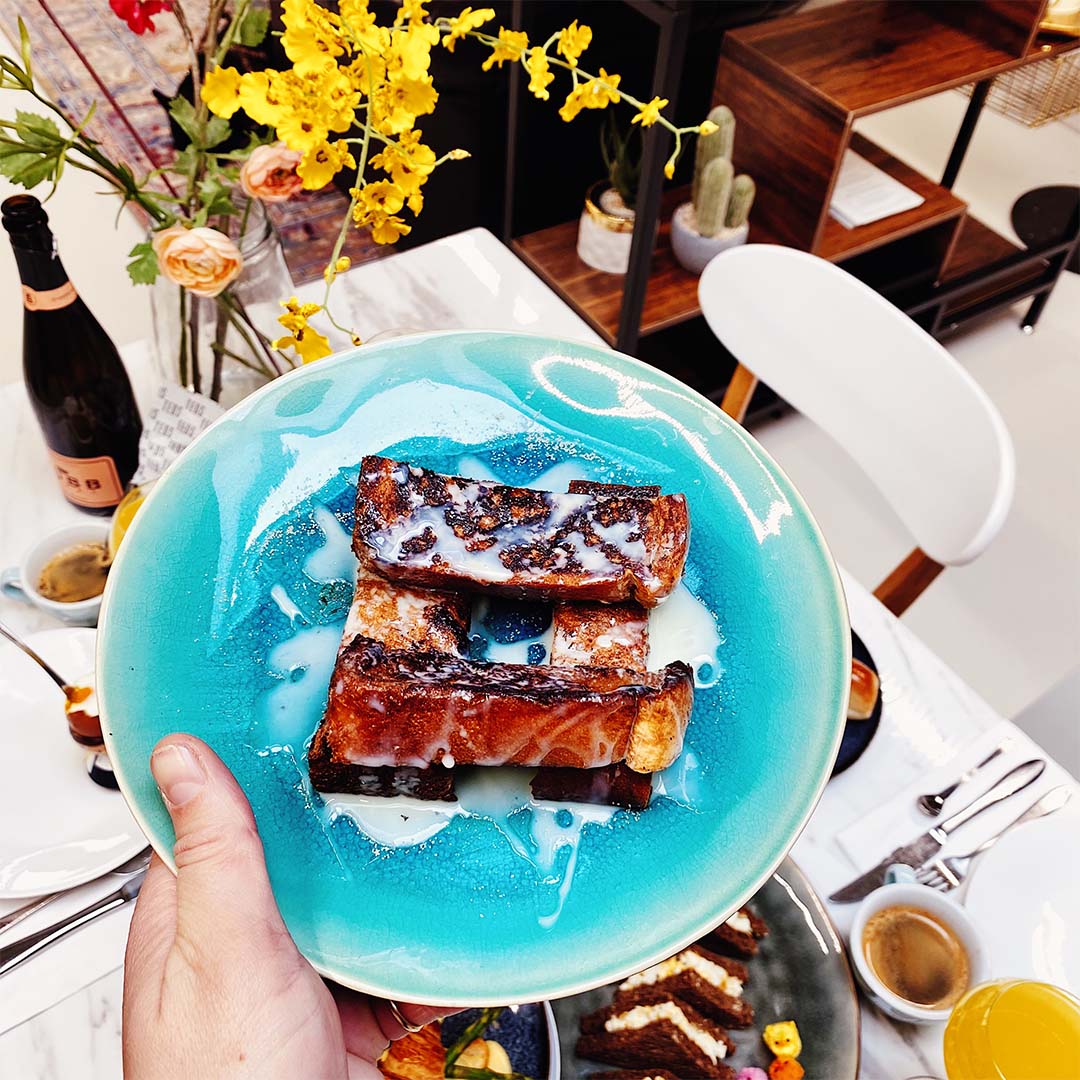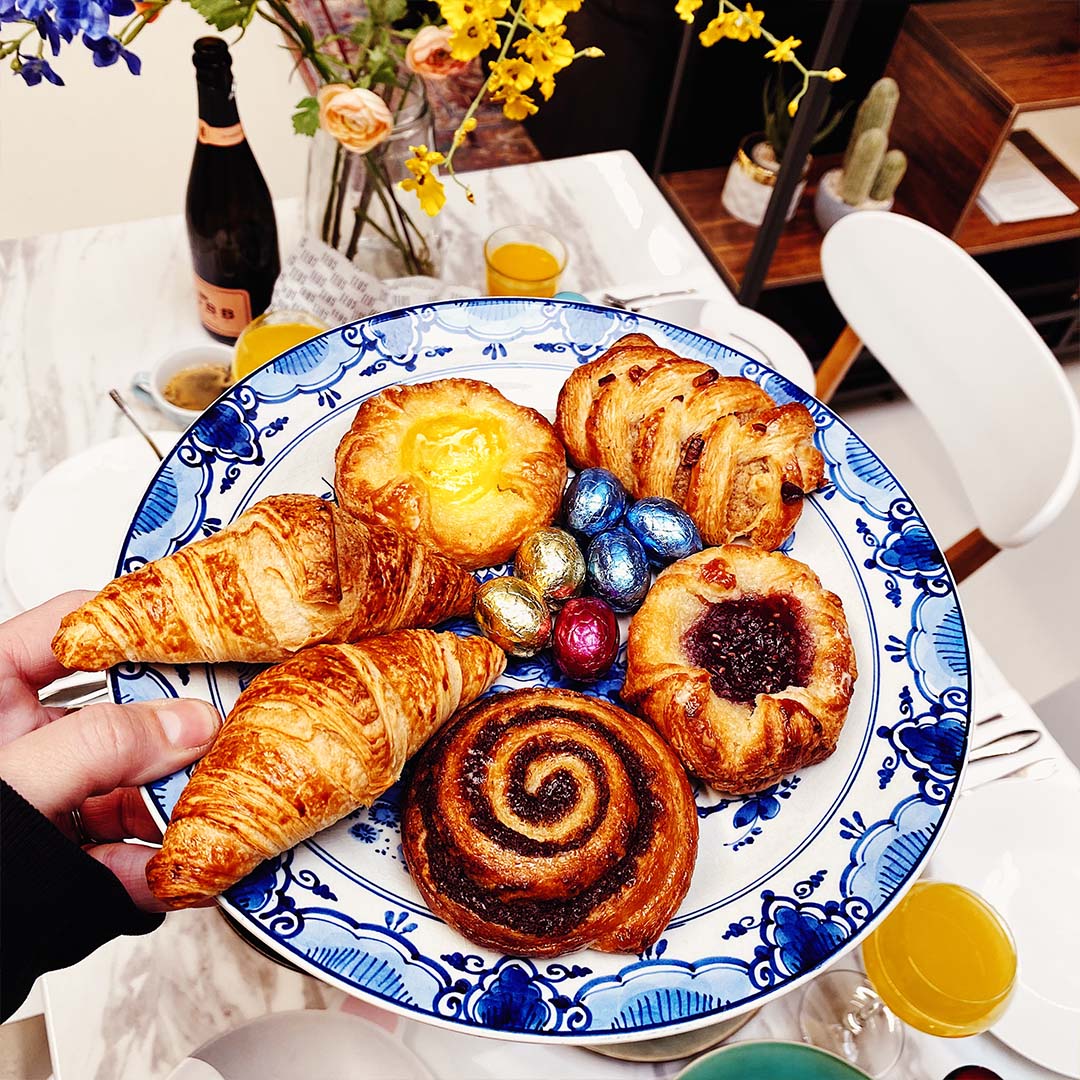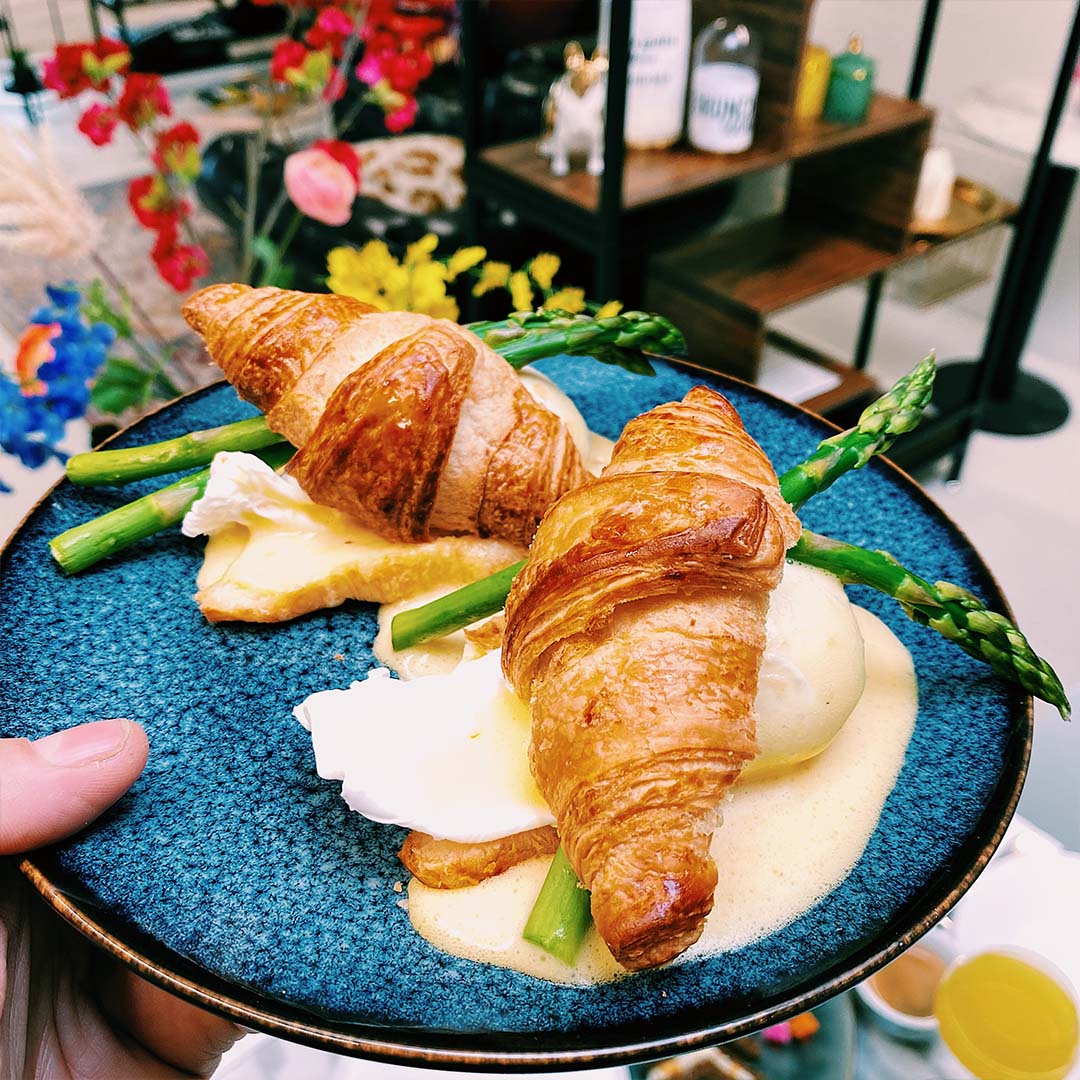 DON'T FORGET
Before you start stuffing your pretty drool-drippin' face with all this deliciousness..
Make sure you take a picture of the end result and post it on Instagram using the hastag #EASTERWITHTEDS and tag us @teds-place.
BON APPETIT!
Next to having amazing cooking skills our chefs in Amsterdam are great DJ's/Producers/Superstars. They compiled all the Teds playlists for that ultimate Brunch Vibe. @Pasquinel_dj @Mitchellyard.