🚨 🚨 🚨  Job Alert! We're looking for you! Come work with us!
Teds Menu
We will do our very-very best to make your time at Teds as amazing as possible. Our food is prepared in-house with a lot of love and attention, so are our coffees, cocktails and other drinks! Did you know that we serve the entire menu the whole day? And that we won't look at you as we do at our uncle Jerry if you order your first cocktail or glass of champagne before 10:00 AM? Enjoy!
Teds specials & high teas
We love to to surprise you! Make it big, juicy and drippin'. Our favourites have now come together in our Afternoon T's. The best selection of little food gems we have to offer! Take a look at our Teds style high tea's and let us overwhelm you with our food love and drinks!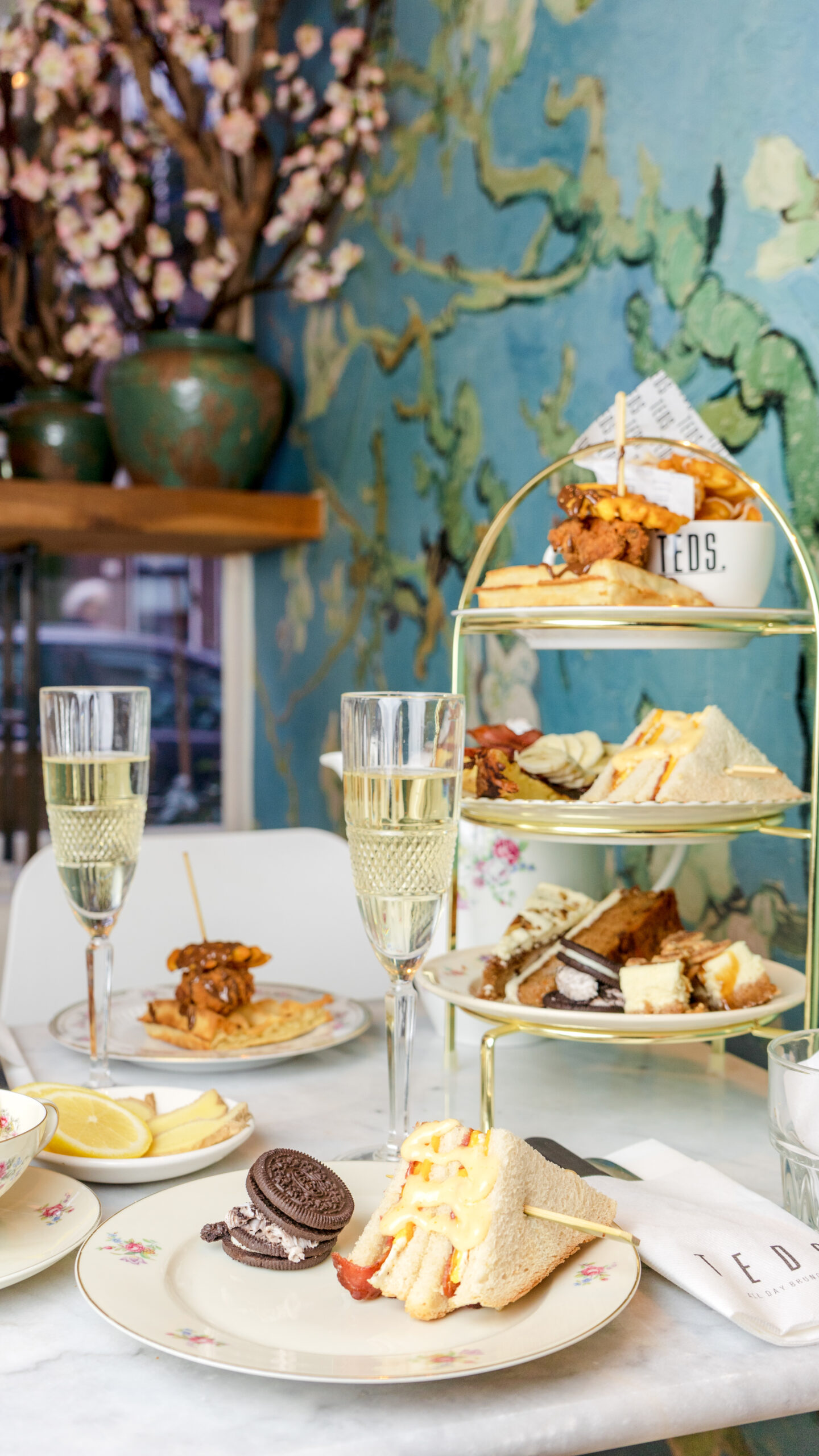 An étagère filled w. delicious Sweets, Parmesan truffle fries & an assortment of Teds faves from our menu.  
We serve 3 kinds of Afternoon T's of which our SpiriTed is far out the favorite one!
The Spirited one €32,00 p.p.
Starting w. a Mimosa or Strawberry Bellini after which we'll serve a tea pot filled w. our popular 'This could be Lemonade'-cocktail. Sipping cocktails out of antique tea cups, who wouldn't love this?
The Sparkling one €27,00 p.p.
This T starts w. a fine glass of bubbly Le Bubb brut prestige, a premium Crémant d' Alsace. Next, we'll serve a tea pot filled w. hot water & a variety of tea's to choose from.
The Virgin one €22,00 p.p.
For preggers, youngsters under 18, designated drivers and of course for those who choose not to do daytime drinking. We'll be serving you a juice of choice and a tea pot filled w. hot water and a variety of tea's to choose from. We offer free refill of hot water in the tea pot during the reservation time of 1,5h.
Bookingdetails
The Afternoon T  can be enjoyed within a 1,5 hour timeframe,  from 2 – 16 persons on weekdays from 14:00 and in the weekend from 15:00. The amount of people in one group per high tea depends on the Teds city of your choice.
If you have a request for a larger group, please feel free to contact our team at sales@teds-place.nl. We will be happy to help you!