You've received this B.Y.O. BRUNCH BOX – L'HOMME ed. Just because you are super awesome! Inside this box you'll find a bad-ass brunch carefully put together for a bad-ass men – like you.
Pssst.. did you know that B.Y.O. is short for Build Your Own?
B.Y.O. BRUNCH BOX – L'HOMME ed.
#BADASSWITHTEDS
Five years ago, May 2015, Teds opened its doors officially for the first time in Amsterdam and started the "all day" trend by offering the entire menu, all day and every day. 
A place where you can order Waffle Fries in the morning next to your French Toast or Poached Eggs in the afternoon, it simply didn't exist in Amsterdam. Weekend, whenever you feel like it!
In that time, day time restaurants offered their breakfast menu until 11.00, lunch from 11.30-15.00 and then you could only order fried snacks until the evening menu started. I'm the kind of person who can really have cravings for fries in the morning with a glass of Champagne or a bowl of Yoghurt and Granola in the afternoon. So I opened up Teds, thinking that I couldn't be the only one missing a place like this. In the menu you find a big selection of my all time, wake me up at night, favorite dishes and drinks. Soul food, not exactly low fat, but food that will make you wobble on your chair wanting to wave your hands in the air and shout out YEAH. Amazing classics with a Teds twist or our own drooldrippin' creations combined with a brunch cocktail, what else does a person need? Luckily there are a lot of people like me which made it possible to open up Teds Utrecht winter 2016, Teds The Hague summer 2018 and Teds Haarlem summer 2019.
As our regulars know we are dedicated to make your TEDS experience tasty and wonderful. In these strange times we are so happy that we are still able to share our love with you, in order to maintain the happy smiles we miss so much at the moment now we are closed. 
We will share (some of) the magic so you can B.Y.O. awesome but most defenitly BAD-ASS BRUNCH pour l'homme. Just follow the steps, it's easy, promise!
We would love it when you make a picture and share it on Instagram under #BADASSWITHTEDS and tag us @teds_place you might WIN yourself a TEDS Sweater!
Have fun and remember, eat diamonds for breakfast and shine all day! 
xx
Sanne Huisman
Founder Teds All day Brunch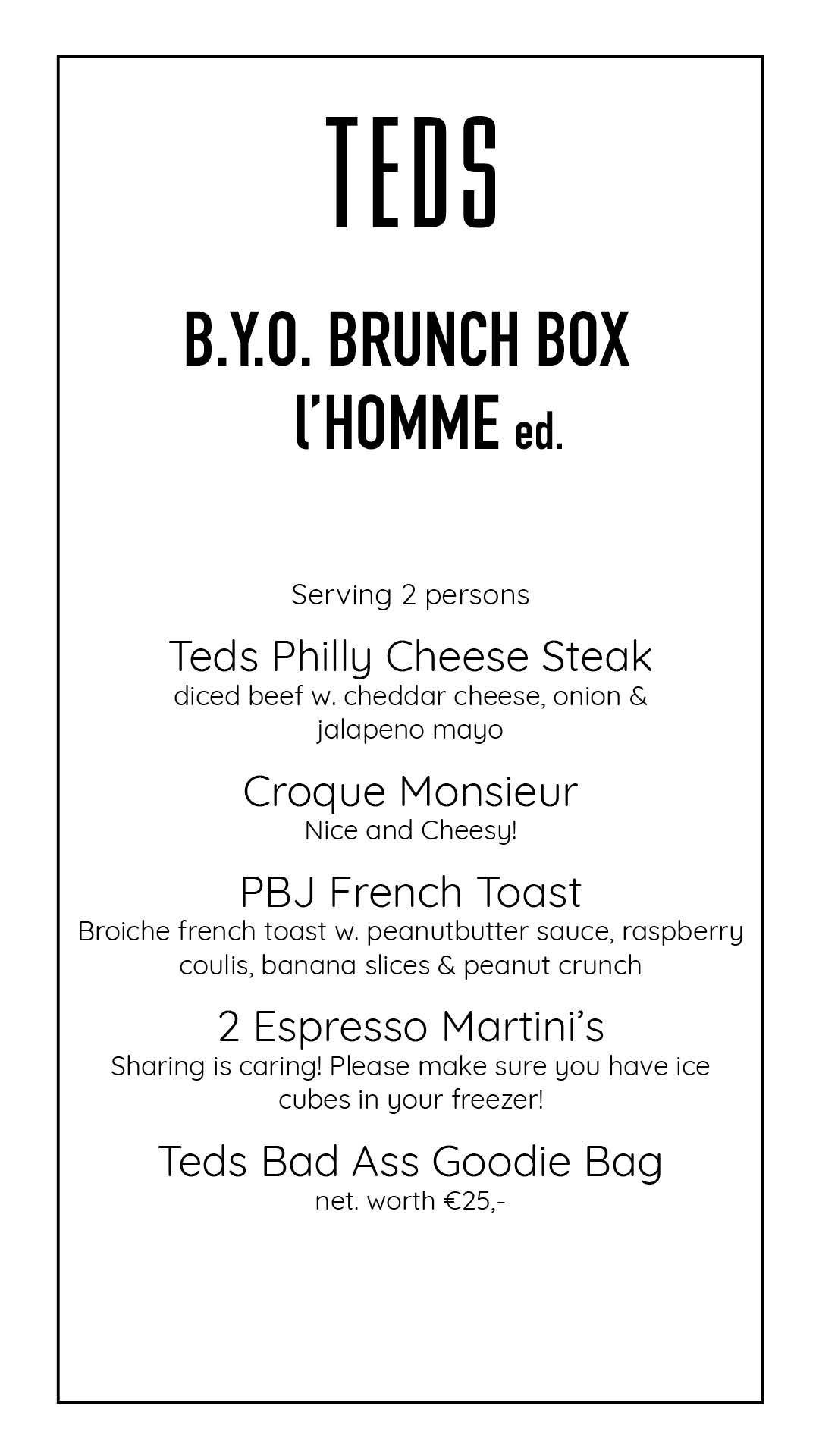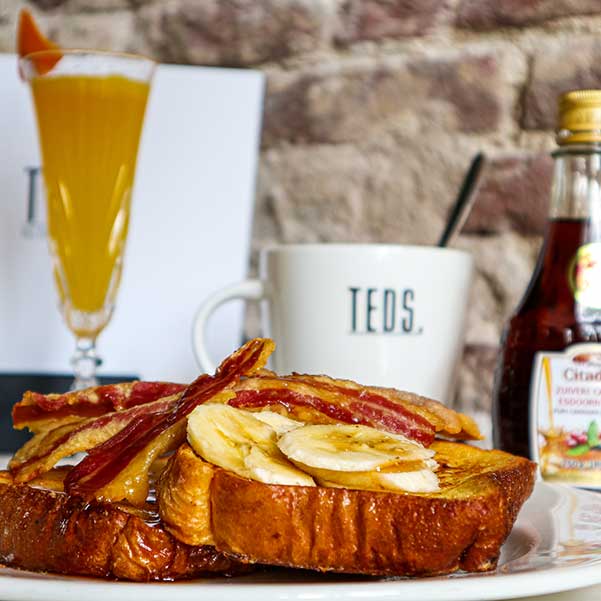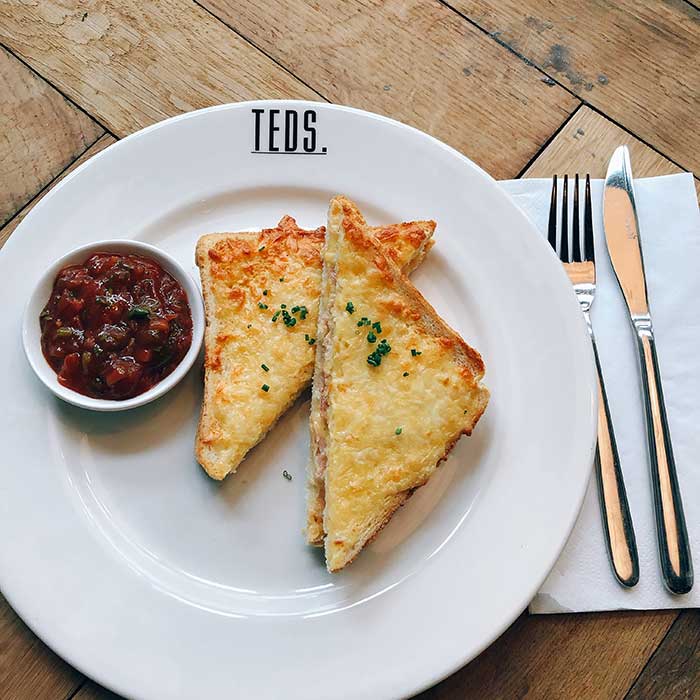 Inside your BRUNCH BOX you'll find;
2 slices of Brioche
1 cup w. French Toast mixture
1 cup w. Red fruit coulis
1 cup w. Peanutbutter sauce
1 banana
1 cup w. hazelnut crumble
1 Croque Monsieur
1 cup of home-made salsa
2 slices of whole wheat sourdough toast
1 cup w. Jalapeno mayo
1 cup w. onion
1 cup w. cheddar cheese
1 pack of diced beef
1 bottle w. 2 Espresso Martini's
1 BAD-ASS GOODIEBAG
Turn on your stove – 2 pitjes
You will need;
A Knife
A Spatula
Some oil or butter
Two baking pan's
A Cutting board
A Bowl
Plates for the French Toast, Croque Monsieur & Philly
Some alu foil
Toaster (if not no worries – the oven will work too)
Ice cubes
Shaker or empty jam jar or fitness bottle – just something to shake those Espresso Martini's in.
A music device with Spotify for the TEDS Summer Playlist
&
Some good lovin'!
BRUNCH BOX – L'HOMME ed.
Step by step instructions
Step 1
Put the Croque in the oven and set the timer for 10 minutes. Check in on this Monsieur every once and a while, take it out when he is golden brown and crunchy on the edges.
Step 2
Open the French Toast Mix and pour it in a bowl.
Step 3
Dip both sides of the Brioche Bread in the bowl (squeeze the bread a little if you overdosed it so the bread won't get too swampy).
Step 4
Put the pan on the stove on a medium fire.
Step 5
Wait until the pan is on a good temperature.
Step 6
Add a bit of oil – if you don't have any oil, butter is fine too.
Step 7
Put the dipped bread in the pan and bake both sides nice golden brown.
Step 8
Get your spatula and put the French Toast on a plate.
Step 10
Put your French toast to rest under a piece of alu foil to keep it warm while you continue w. the Philly.
Step 10
Put in the two slices of Sour Dough bread in a toaster or in case you don't have one, in the oven for 4 minutes until nicely toasted.
Step 11
Put oil in a second baking pan (or re-use the French toast pan) and put in the onions and let them simmer.
Step 12
Put in the diced beef and turn on the heat so the meat will brown quickly (leaves it nice and medium-rare on the inside). Add salt and pepper to season the beef.
Step 14
Take out the two slices of Sour dough bread and spread the spicy Jalapeno Mayo on it.
Step 14
Add the Cheddar cheese to the pan and fold it over the beef and onions until melted.
Step 15
Spread the Beef/Cheese&Onion mixture on the toast and place the second slice on top (if you are sharing, you can cut it in half).
Step 16
Finish up the PBJ French toast by zigzagging the sauces over the two slices, cut the banana in slices and spread them on top and sprinkle with the hazelnut crumble.
Step 17: ING Dad's Only
Put the Croissants & Brownie in the oven for 3 minutes.
Step 18
ESPRESSO MARTINI TIME!!
Add some ice cubes to the espresso martini mixture and SHAKESHAKESHAKE, pour the drinks with a strain/zeef in to the Tia Maria Espresso Martini glasses so you don't have the ice cubes in your glass.
Step 19
TURN ON THE TEDS SUMMER PLAYLIST AND GIVE A SHOUT THAT FOOD IS READY!
Step 20
Cleaning – up the kitchen, not the nicest thing to do but it's part of the deal.. 
That wasn't so hard right?!
Don't forget
Before you start stuffing your pretty face with all this deliciousness.
Make sure you take a picture of the end result and post it on Instagram using the hastag #BADASSWITHTEDS
BON APPETIT!